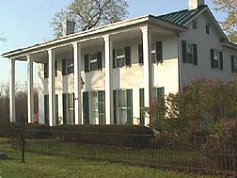 Older than the state of Ohio, the village of Waynesville offers a fascinating combination of history and culture as it developed in southwestern Ohio. This "Antiques Capital of the Midwest" and "Home of the Ohio Sauerkraut Festival" is a microcosm of our American heritage with its dreams and accomplishments.
Samuel Heighway founded Waynesville in 1797 and thought his town would become the capital of the Northwest Territory. A dream that never materialized. But Waynesville did grow up to be one of the most historically unique tourist spots in Southern Ohio. Heighway, an engineer from Shropshire, England, and some other ritzy English frontiersmen settled Waynesville March 8, 1797. He and his partners, Rev. John Smith, a Methodist minister, Dr. Evan Beans, a physician, and Sir Francis Baily, a young scientist, invested in 30,000 acres in the Symmes Purchase between the Little and Great Miami Rivers. A plantation was their scheme.
A settlement party, organized at Philadelphia in September 1796, cleared land previously surveyed by Heighway as early as 1792. Over 10 tons of implements and supplies were bought at Baltimore and brought to Philadelphia. These were stowed aboard a 12 by 36 foot "Kentucky Ark" flatboat and moved on the Allegheny and Monongahela Rivers to the Ohio.
After arriving at what is now the present site of Waynesville, the settlers dug in with primitive log shelters before log cabins were built facing the river. Heighway's initial layout of the village was on a rectangle plan. His design was that of an English village. Formal parks and squares were arranged around a central public square. These were accented with plans for a serpentine walk, groves of ornamental trees and fishponds. Heighway's original map of the village was dotted with fountains. A "Government House" was strategically situated on the public square accented by a tree shaded esplanade.
Museum at the Friends Home
4th and Miami
P.O. Box 12
Waynesville, OH 45068
(513) 897-1607